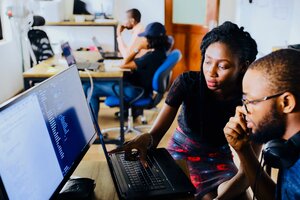 When it comes to your business, don't skimp on IT. It may be tempting to save money by reducing your IT budget, but it could cost you more in the long run. Strong security and reliable technology will pay off as a healthier bottom line.
Managed IT services can help reduce costs in several ways. First, they can help you avoid costly downtime by proactively monitoring your systems and catching issues before they cause major problems. They can also help you save on IT staff costs by providing expert-level support at fewer costs than hiring an in-house department! Finally, MSPs can help you get the most out of your IT budget by using their economies of scale to get discounts on hardware, software, and services.
Here's exactly how managed IT services make that happen for you:
Affordable Monthly Fees
Managed IT services offer their services to multiple clients simultaneously, reducing the overall cost to each client. This model also offers 24/7 monitoring and support and a team of IT professionals to manage all client IT needs.
The monthly cost is based on the services package that best meets the business's needs. This is a benefit over "break/fix" IT support, which results in ad hoc costs every time there is an IT issue. So with these services, you generally pay less than you would for a single in-house IT employee. You get a full team of IT professionals, with more resources, for a similar price!
Reduced Downtime Costs
While some IT companies follow a break/fix approach and only repair issues as they arise, MSPs monitor your systems 24/7 to search for vulnerabilities that could cause downtime. They also patch software weaknesses to thwart security threats. So by reducing downtime, MSPs boost productivity and can save your business thousands of dollars.
This is why it's important to have a plan in place for when (not if) downtime happens. A downtime plan can minimize the effects of an outage and get your systems up and running as quickly as possible. They could also save you as much as $300,000 per hour of downtime.
Cybersecurity Parameters
Cybercrime is a business problem because it can lead to expensive data breaches. If businesses don't invest in cybersecurity, they're more likely to be hit by cyberattacks.
Per IBM, the average data breach cost businesses must deal with is a whopping $3.92 million! Imagine that amount compounding with the additional downtime problems mentioned above. Also, the brand will lose customers due to a significant breach of trust. Many businesses face these consequences because they neglect cybersecurity. According to Hiscox's 2019 Cyber Readiness Report, only 11 percent of businesses can consider themselves cybersecurity experts. The rest of the companies must improve their security before their systems are fully secure.
Thus, managed IT service is a system where you can pay to have someone else manage your cybersecurity. This can be helpful because they can do things like monitor your system for vulnerabilities 24/7 and help you recover from disasters.
Conclusion
Avoid the above risks and enjoy the benefits of reduced financial and reputational costs through managed IT services in Birmingham, AL, through SIP Oasis! We make IT easy and accessible by responding to your queries and needs the soonest. Visit our website or reach out to us at the ff.:
Office (205) 623-1200
Client Support (205) 588-5858
help@sipoasis.com