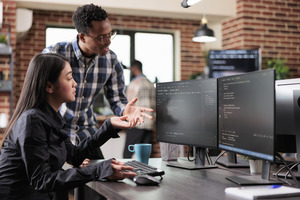 Small and mid-sized businesses are the backbone of the American economy, but they are also the most vulnerable to cyberattacks. In fact, according to the National Cybersecurity Alliance, 46% of small businesses in the country have been targeted by ransomware attacks. The good news is that there are steps small businesses can take to protect themselves, and one of the most important is to comply with cybersecurity best practices.
Cybersecurity compliance may seem like a daunting task, but the truth is that it can be relatively simple and straightforward. And, more importantly, it can have a tremendous impact on the security of your small business. Here's what you can do to defend your business through cybersecurity compliance.
The Importance of Cybersecurity Compliance
Cybersecurity compliance is the process of ensuring that your business is following all the necessary security measures to protect your data and systems. This includes things like implementing strong password policies, using encrypted communication, and having up-to-date security software.
There are a few reasons why cybersecurity compliance is so important. First, it helps to ensure that your data is safe and secure. This is important for both you and your customers. It can also help you avoid costly fines and penalties. And finally, it can help you build trust with your customers and partners.
What Are the Common Cybersecurity Compliance Requirements?
There are many different types of compliance measures you can take to protect your business. Some of the most important measures include:
Implementing strong authentication measures.
Encrypting data at rest and in transit.
Creating and maintaining comprehensive backups.
Implementing security controls at all levels of your organization.
Training employees on cybersecurity best practices.
Conducting regular security audits.
Working with a trusted cybersecurity partner.
When implemented properly, cybersecurity compliance measures can help you to protect your business from cyberattacks. However, compliance is not a silver bullet. You also need to have a comprehensive security strategy that includes other measures such as incident response and risk management.
Defending Your Business from Cybersecurity Threats
As a business owner, you are responsible for the safety and security of your company's information. You must take steps to protect your business from cyber threats, and one of the most important ways to do this is through cybersecurity compliance.
There are a number of regulations and standards that businesses must comply with in order to protect their data. Some examples include the following:
Health Insurance Portability and Accountability Act (HIPAA)
Payment Card Industry Data Security Standard (PCI DSS)
Gramm-Leach-Bliley Act (GLBA)
Depending on your industry, you may need to comply with other standards as well.
Compliance with these regulations can be complex and time-consuming, but protecting your business from cyber threats is essential. By taking steps to ensure that your company is compliant, you can help to safeguard your data and reduce the risk of a data breach.
Conclusion
If you want your business to thrive and be protected from cyberattacks, it's best to invest in cybersecurity compliance. You can work with a compliance consultant to assess your needs and develop a compliance plan. At the end of the day, the important thing is protecting your customers and employees from any and all threats.
When it comes to IT services and security for your businesses, it pays to work with someone you can trust fully. SIP Oasis is a reliable IT solutions provider in Birmingham, AL, providing white-gloved services for small and medium-sized businesses. Whether you need managed IT services, VoIP, data backup, or network security in Birmingham, Al, we are the ones to call. Partner with us today and take advantage of our IT solutions!