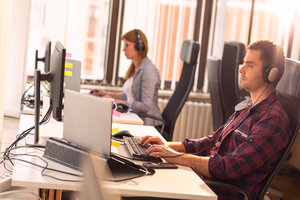 If you are a small business owner, you may be hesitant to spend money on IT support services, thinking that it will be too expensive. However, you may be surprised that IT support services can save you money in the long run. The cost of IT support services varies depending on factors such as your location and the size and complexity of your network.
With all that being said, below are just a few vital reasons you may want to implement them in your small business.
1. It Promotes IT Readiness
In today's business world, it is essential to have a reliable computer support services company that can help you through any unforeseen technical difficulties. A good computer support services company will have a team of experienced IT professionals who can provide you with the help you need when you need it. They will also have a robust infrastructure in place so that you can always rely on their services.
The IT support service is important because it helps businesses keep up with new technology and processes. For example, the COVID19 pandemic has forced many businesses to change the way they operate. IT support can help businesses make these changes and continue to operate smoothly.
2. It Saves Your Business Money and Time
An IT support team is a wise investment for any small business because they will almost always pay for themselves and then some. This is because whenever there is a software or hardware issue, the IT support team will be there to help resolve the problem quickly and efficiently. 
This means you can have your IT support team available to you when you need them without worrying about hiring an IT repair company. This is especially helpful if you have a network or computer issue that needs to be fixed quickly. When you have a flat fee for IT support, you can budget your expenses more easily and avoid unexpected costs.
3. It Improves Your Business's Customer Support
When you hire an IT support team, you can be sure that your customer service will be more reliable. With their help, you can avoid downtime and keep your network running smoothly.
4. It Improves Your Business's Network and Security
Data is everything when it comes to information and technology. IT support is always a wise financial decision to protect your data because it can help prevent data breaches and other security issues. Having a secure network also helps you provide secure transactions for your customers.
The IT support team can even help you backup your data so that you don't lose it, and they can also help you protect your data from being infected.
5. It Implements Good Time Management
If you own a small business, you have a lot of responsibilities. You must take care of your customers, data, IT infrastructure, and network. It can be a lot to handle. But if you use an IT support service, you can take some of the responsibility off your shoulders. You can give it to a company that specializes in IT solutions.
With a flat-rate IT solution, you'll always know how much you're paying per month. This makes budgeting for your IT needs much simpler and less stressful.
Conclusion
Overall, there are many advantages to using professional IT support services for small businesses. These services can help businesses save time and money and provide peace of mind knowing that experts have taken care of their IT needs. However, choosing a reputable and trustworthy IT support company is important, as not all companies are created equal.
Doing your research and getting recommendations from other businesses can help you find the right IT support company for your needs.
If you are looking for a company that provides small business IT support in Birmingham, AL, look no further than our expertise here at SIP Oasis. As a reliable IT solutions provider in Birmingham, AL, we respond to your calls and needs immediately. Count on us to make your IT easy. Call us today and let us implement the IT support services that your venture needs.