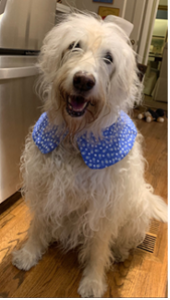 A Personal Letter from Georgia
"It's National Be Kind to Animals Month, But I Want to Give YOU the Gift…"
Hi! My name is Georgia, the official office hound here at SIP Oasis. I know we've never met before even though I'm the REAL brains in this organization (My human, Ron Shoe, likes to keep that little factoid confidential…something about being upstaged by someone who slobbers and sheds makes him feel inadequate).
At any rate, I just couldn't stay in the background anymore since May is national "Be Kind to Animals Month," and I thought it was about time for me to make an 'executive decision' not only to come out and introduce myself to you, but also to offer you a FREE Network Security Assessment on Ron's dime (yeah, I'm really generous with HIS money ☺).
All kidding aside, this FREE Network Assessment is nothing to scratch at!  Our tail-wagging techs will deploy a harmless tool on your network, giving it a thorough sniff to look for security loopholes, hardware problems, system errors, and password issues that could cause a lot of expensive problems for you.  And all I hear around the office is how much worse those cybercriminals have gotten in the past year!  Usually, Ron charges a pretty penny to do this, but I wanted to do something special for our national holiday and, in return, hold my very own "be kind to customers" special.
But you have to do me a favor and respond fast before Ron finds out – he doesn't know that I've finally figured out how to use the computer and printer, and once he discovers it, he'll probably tell me "Bad Georgia" and then want to start charging for this great Assessment.
Personally, I think giving this away is a great, risk-free way of introducing us to NEW prospective clients like you. But what the heck do I know…I'm just a dog.
I DO Know It'd Be A Shame for You To Miss Out On This….
The Peace of Mind, Lowered Stress Levels, Elimination of Problems, and One Less Thing to Worry About
- All FREE –

I'm Trying to Throw You A Bone Here,
But You're Gonna Miss Out If You Wait Any Longer!
Are you aware that most computer disasters could have easily been avoided with a little preventative maintenance? Wouldn't you rather know where you are vulnerable and fix those areas before they turn into expensive problems and unexpected down time? Or before a nasty hacker or virus gets in and causes all kinds of damage? Of course you would! That's why you'd be a bonehead not to take me up on such a dog-gone good offer – and believe me, I know a bone when I see one!

     Plus, I know that Ron really knows his stuff.  I hang out in the office, and I hear what customers have to say. All of them comment on how responsive and reliable our entire team is.
Chuck Gault from Max Coating says that he can always count on our team's fast response and that we deliver the quality service you want.  Lee Pearce from Alabama Quality Assurance Foundation says that knowing that security measures are handled gives him lots of confidence!   Jasper Cleage over at AI Corporate Interiors loves that we provide a technology plan that is understandable and clear.  And Pete Donohoo at Donohoo Auto has been using us for over 10 years, and he loves that we know how to make their darn computers behave the way they are supposed to (now if he can just get ME to behave the way I'm supposed to, wink-wink…)
     But you have to hurry!  Ron is going to be barking mad when he finds out what I've done. That's why you should call and schedule your free assessment right now: 205-623-1200.  You could also contact his great Business Development Manager, Andrew Burke, at aburke@sipoasis.com or 205.623.1197.
Thanks,
Georgia
PS. When you see Ron for your Free Network Security Assessment, could you please give him a milk bone to bring back to the office for me?
6 Doggone Good Reasons to Outsource Your Cybersecurity and IT Support to SIP Oasis
EASY cybersecurity.
The "bad guys" have the budgets of global crime syndicates and nations like China and Russia behind them. No typical business-owner can keep up with the constantly changing cat-and-mouse of cybersecurity or the sheer volume of threats today.
You can relax with our white-glove security and compliance services. 
EASY accountability.
In tech, it always seems to be the other guy's problem. The internet provider blames the router; the network guy blames the internet; the phone guy blames the carrier; the carrier blames the phone system….
We take responsibility and accountability for ALL OF IT.
 EASY billing.
Our premium service is billed at a flat monthly rate – no surprises – no extra charge for projects, moves, or disasters. We become your in-house, do-whatever-it-takes technology partner, so the faster we prevent or resolve issues, the better for everyone.
Your pain is NOT our opportunity.
EASY strategy and support.
Instead of an IT guy who knows what he knows and fakes the rest, you get an entire team of experts with over 150 years of combined experience.  Partnering with us gets you help-desk techs, network engineers, anti-hackers, and even CIO executive strategists.
Together we plan, budget, execute, protect, and manage.
EASY contract.
There isn't one!  Our clients use us because they love us, not because they're obligated.
Fun, yet business minded.
Typically, tech folks don't understand business, and business folks don't understand tech, leading to expensive misunderstandings and mistakes. You don't care about buzzwords or jargon, and technology must be a profitable investment.
Our staff has fun working together, solving your business problems.
Don't Take Our Word for It!
Just Listen to What Our Customers Have to Say…
Sign Me Up For
The
Free

Assessment