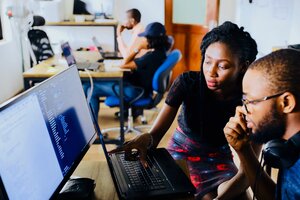 Managed IT Services are the preferred solution for small and midsize businesses that want to focus on their core competencies and outsource their IT services. No wonder managed IT services are flourishing these days. Here are ways it can help your business:
Comes With a Flat-Rate Fee
With a managed IT services provider, you won't have to worry about paying a high fee for every service. A flat-rate fee covers all services provided by the IT company. 
Provides Built-In Repairs
Another great advantage of managed IT services is that you don't need to worry about downtime and hassle, thanks to the built-in repairs they offer. Therefore, you get to save more time and money in the long run. 
Delivers Quick Support
If you're a small or midsize business owner, you know how hard it is to juggle your responsibilities. There's nothing worse than getting a call from your technical provider telling you your server is down and they're already halfway through their workday.
Managed IT services eliminate this stress and deliver quick support. So you can get back to your work and tend to other business matters while the managed IT provider fixes your server.
Ensures Proactive Monitoring
Remember the saying, "If you don't look after it, who will?" When you outsource your IT services, they'll keep an eye on things and be proactive about providing support. They'll be on hand to install new software, update your system, and more.
This is a great way to ensure that your network is healthy and secure for your business.
Provides Routine Maintenance
Business owners have a lot of things to take care of. If you're not careful, your IT systems can get neglected, eventually leading to system downtime. With managed IT services, you don't have to worry about this.
An IT provider will give your system routine maintenance checks and suggest improvements. So, your systems will always be running in tip-top shape and ready to help your business.
Before you choose a provider, it's essential to make sure they're a good fit for you. To do this, you need to ask the right questions. Here's what you need to know about managed IT services.
Does The Provider Offer On-Site Services?
With on-site services, you can ensure that the provider is always on call. You can expect prompt service when you need it, which means you won't have to spend your time searching for a provider.
This service is ideal for small or midsize businesses.
Does The Provider Offer 24/7 Support?
If you're a small business owner, you already have enough responsibilities to deal with. The last thing you need is to deal with technical issues that could disrupt your workflow. With a managed IT services provider, you can get 24/7 technical support.
Does The Provider Offer a Security Guarantee?
When it comes to security, you can't be too careful. A managed IT services provider should offer a security guarantee.
Does The Provider Offer Customization?
Customization is important so you can add new features and services as needed, and you can be sure that the provider will be able to provide you with these services.
It's a Win-Win Situation
As you can see, managed IT services are the way to go. They're the best option for businesses that are just beginning or are in the early stages of growth.
SIP Oasis is a well-known managed IT provider in Birmingham, AL. We'll manage all your IT services for a flat-rate fee so you can focus on growing your business. Get in touch with us.