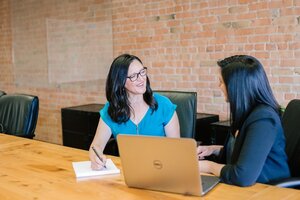 While the growth in this market presents a great opportunity for managed service providers (MSPs), they can't sit back and expect customers to come to them. To meet customer expectations and take advantage of IT demand in 2022 and beyond, MSPs should use these three tips.
Expand and Improve Your Services
Do you want to increase the value of your MSP business? Expand your services portfolio so that you can attract and retain profitable customers. As small to medium businesses spend more on managed IT services, they will continue to seek out MSPs with extensive service portfolios for ease and convenience. 
You'll also want to improve your business's cybersecurity. The amount of customer data held by MSPs makes them a target for malicious threats. This is why you need to improve your cybersecurity efforts so that you can prevent data breaches and protect both your data and your customer's data.
Improve Your Personnel
It's a candidate's market for all the jobs in the IT sector, which means that all the companies are competing to hire the best talent. Remember, you'll only go as far as your team will take you. 
You can foster a workplace culture that makes employees feel that you are helping them develop their skills by investing in regular employee development training. Technicians should stay up-to-date on the latest technologies by learning new skills in training sessions, and companies can show employees that they are invested in their career development by sending them to classes. Investing in employee development can help companies keep employees.
Staff certifications in cybersecurity, virtualization and cloud computing can help boost employee careers and your MSP's credibility and customer trust. These certifications are especially important for providing cybersecurity services, as organizations want proof that people in charge of their information security are highly trained and experienced.
Automate Service Delivery and Management
As your MSP business grows, you will likely find that new services and modern solutions you adopt increase the number of tasks that your team has to perform. Although this could turn into a time-consuming process, forward-thinking MSPs have recognized the need to streamline their technology stacks. The key to boosting your MSP's profitability is to work smarter and not harder.
As the complexity and number of requirements from the customers rise, organizations have no choice but to automate services. Automation software has become a standard. Since automation software helps to minimize chaos and maximize customer satisfaction, many MSPs are turning towards professional services automation software to serve as a single source of truth for all integrated apps. Using professional services automation (PSA) software solution to automate workflows not only improves staff productivity, it also enhances customer experience by clarifying accountability and giving clients a more effective way to communicate with your teams. Another way for MSPs to boost profits is through an RMM tool. These tools make it easier to deal with complex IT environments that span traditional offices and less-secure work-from-home setups.
Conclusion
As the world evolves into a new era, driven by accelerated digital transformation, managed service providers have a great opportunity to become trusted IT partners for businesses that recognize the need to develop IT systems while they grow. Making the most of this opportunity requires your MSP business to take a disciplined approach toward delivering services, focusing on areas with the greatest potential for growth.
If you are looking for a reputable firm that provides managed IT services in Birmingham, AL, you should tap into SIP Oasis. We offer top-notch IT support for SMBs. Contact us now for more information!