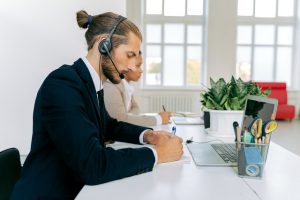 Maintaining and keeping up with IT systems can be challenging for many small businesses, especially those in a different industry entirely. According to one study, 55 percent of small business owners feel like they lack knowledge and experience in the technology aspect of their business processes. Fortunately, there's a solution to this: working with managed service providers (MSP).
When it comes to business IT needs, managed IT service providers can do the grunt work and allow the owners to focus their attention on business operations. In particular, there are three areas where managed IT service providers can help. Keep reading to learn more about what they are.
1. Managed IT Services Minimize Business Risks
With so many technological advances, businesses are also exposed to technology-related risks. Managed IT services include the utilization and protection of private, public, and hybrid clouds. As a result, business owners and key employees can access data wherever they might be in the world, as long as they have access to the internet. Additionally, having experts protecting cyber property helps businesses minimize third-party hacks and data breaches—something that happens much more often than you think.
Moreover, a managed IT provider gives the business the power to improve business continuity processes and disaster recovery. Working with them minimizes the chance of data loss in the event of a natural disaster or any work stoppage. As a result, the company doesn't need to suffer through downtime, whether it's due to computer failure, software issues, or power outages.
2. Managed IT Services Help You Anticipate Problems before They Happen
Managed IT service providers are equipped with the expertise, hardware, and software to anticipate possible IT problems before they happen. This way, they can protect the company against data threats. With these concerns taken care of, business owners can scale IT operations, keep customers happy, and improve the quality and efficiency of work.
Yes, business owners still have control over their IT systems, but they no longer have to rely solely upon on-site infrastructure and in-house staff. Plus, they have a second, sharper eye that helps them stay on top of everything IT-related.
3. Managed IT Services Boost Business Productivity
You can think of IT experts as an extra pair of hands that takes care of the technology-related problems in your workplace. They step up and take responsibility for tasks like software protection, data information, cybersecurity, monitoring, routine maintenance, and other IT projects. Because you have MSPs focusing on this on your behalf, you don't have to split your focus between tech support and other tasks, boosting your productivity.
With MSPs, your business also has the advantage of updated tools and software, helping employees escape slow, outdated IT systems. This streamlines processes and helps the company conquer mobility, business continuity, unified communications, computing, cybersecurity, and storage requirements.
Final Thoughts
Business owners in the digital age have to juggle so many things on top of regular business operations. But that doesn't have to happen anymore. When they work with managed IT services providers, they have people handling IT security patches, software updates, and cybercrime risks, aside from the regular IT system maintenance.
Say goodbye to the pressures of handling your business IT needs when you work with a managed IT services company, like SIP Oasis. We offer small business IT support for companies in Birmingham, AL, to help you focus on your operations and grow your business. Let us make your IT easy—book a discovery call today.