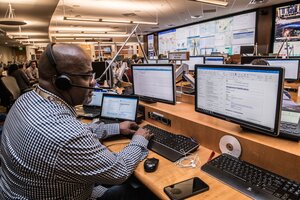 VoIP(Voice over Internet Protocol) systems have emerged as an effective alternative to on-premise phone systems. Unlike traditional phone lines, VoIP phone systems operate on an internet connection instead of depending on an on-site infrastructure. They can also be monitored and managed remotely by a phone service provider. 
As company cultures shift to embrace more flexibility, cloud-based communication has emerged as a critical component of modern-day businesses. VoIP has allowed various enterprises to streamline their operations, and call centers are no exception.
Here are four benefits of a VoIP phone system for your call center:
Decreased Costs & Improved Budget Performance
A VoIP phone system can be managed remotely, which allows for a significant decrease in the time needed to make changes. For companies looking to reduce their operating costs, choosing a cloud-based phone system can help reduce long-term overhead fees. With it, expenses are significantly lower than installing a phone system on-site. Additionally, a hosted cloud-based phone system will require less work on the company's end and be easier to repair.
Suppose you're currently using an on-premise phone system. In that case, you're probably aware of a significant investment in time and money needed to implement changes to the system. Unexpectedly, your business can shift, and you may need changes to your phone system immediately. With VoIP systems, you can implement changes in hours rather than days or weeks.
Better Customer Support, Better Sales
You'll be able to improve customer service and sales by increasing the level of support you can provide if you enable your call center agents.
In today's fast-paced world, customers expect the best possible customer service. Call centers allow the company to respond to customers quickly and efficiently. With physical phone systems, responding swiftly and efficiently can be a challenge. This is why modern service providers are turning to VoIP to increase their efficiency in servicing business partners.
Increased Flexibility in the Workplace
Employees must physically be at their desks to make or receive calls with on-premise phone systems. Even with the advent of cell phones, being in the office to answer your phone can still be a hindrance.
For example, сall center agents must be present to receive calls at all times, even if they are not in the office. This could mean long hours and missed time at home. It also means off-putting customers who do not get the level of service they expect.
With VoIP, any call center can provide its employees with flexibility in the workplace to work from any other location. Just one day of remote work can save your business thousands of dollars.
Advanced Customization
Because the VoIP phone system is software-based, implementing new features is streamlined. You don't have to install new hardware because calls can be directed to different extensions based on caller ID.
For example, уou can direct international calls to a global support team or calls from known customers to a specific department.
With so many options, VoIP can offer businesses a customized phone system that is feature-rich yet customizable. In other words, you can design a phone system that fits your business's every need.
Conclusion
Call center agents can benefit from various communication technologies that will enable them to deliver excellent service while working more effectively. Companies may considerably cut labor expenses, enhance worker flexibility, and provide a more customized experience for their consumers without losing quality.
SIP Oasis is the only VoIP provider you should use. As a top provider of VoIP in Birmingham, AL, we are always looking for ways to enhance the service we deliver to our consumers. Contact us now to find out more about VoIP and how our services may help your company!