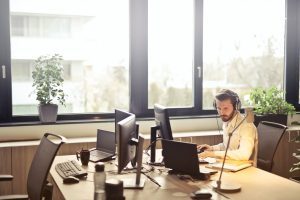 Whether you are running a small business or a multi-national organization, someone has to run your IT. It would be better if you had someone to manage your computers, phones, networks, and passwords. This requirement would not be an issue for big corporations, but most small businesses do not have the budget to retain in-house IT personnel.
This dilemma gives an opening for managed IT services. You might have second thoughts about employing such a service, but you should keep an open mind to the benefits that it offers. Here are a few of its advantages:
Significantly Reduced Costs
Engaging in managed IT services is more economical than retaining in-house IT personnel. Small businesses with no budget for dedicated IT personnel give this option a lot of thought. You will have to allocate a budget for your IT service, which you will not regret because it can help you save a lot of money.
Is it true? Yes, you can still save money and accomplish goals with a managed IT services company. Below are some areas where you can save money:
No need to purchase expensive hardware
You will no longer pay for software licenses 
No need to train and hire IT personnel 
No need to build and maintain any infrastructure 
No need to perform IT security measures 
No need to perform disaster recovery measures 
No need to take care of legal issues 
Higher productivity 
No need to upgrade systems and software 
No need to maintain systems 
No need to perform backups of your systems and data
Many people worry about outsourcing their IT because they think they will end up paying more than necessary. The truth is that you can obtain managed IT services at cost-effective prices that will serve you right.
By paying for managed IT services, you will also eliminate the need to manage and monitor the performance of your IT systems. The IT services firm that you engage will be responsible for doing everything that needs to be done on your behalf. Thus, it can save you a lot of time and effort.
You can also focus on your core business operations, knowing that your IT systems are working fine and that you do not have to worry about anything. You do not have to think about upgrades, software installation and configuration, data storage, and maintenance.
Better Cybersecurity
Engaging in managed IT services is a wise decision, especially if your business is essential to you. Please note that the most significant risk to a company with no IT personnel is cybercrime.  
Engaging in managed IT services is the best decision you can make for your business. You can now focus on your business goals and not worry about IT problems. With the help of a managed IT services company, you can take care of cybersecurity, data backup and recovery, disaster recovery, and system upgrades.
You will not regret having chosen a managed IT services company in the long run. Remember that the risk of cybercrime is accurate, and the best way to thwart the threat is through better cybersecurity. You can achieve better security and peace of mind knowing that you have a team of IT experts that can help you when the need arises.
Conclusion
When it comes to managing IT in the business, it is better to let the experts do it. Many small businesses lack the budget to hire in-house IT personnel, but they can still invest in managed IT services. It is a good idea for any business, especially for small and midsize companies.  
If you are looking for a reputable firm that provides managed IT services in Birmingham, AL, you should tap into SIP Oasis. We offer top-notch IT support for SMBs. Contact us now for more information!